Dobro došli na moj blog.
Prvi post..O čemu pisati?  Krenula sam sa favoritima 2015-te a napisala ovaj. Favoriti će biti sledeći.  Blog je nastao iz ljubavi, dopuna mog youtube kanala. Ne znam zašto ali čini mi se da će biti suprotno  🙂 .Odavno mi ideja o blogu stoji sa strane i evo reših da je realizujem. Ako me pratite na youtubu jedan od prvih videa na mom kanalu bio je baš o keratinu i brazilskom ispravljanju kose. Ukratko sam ispričila šta i kako i pokazala efekat samo osušene kose. Moju priču i iskustvo mozete pogledati OVDE. Medjutim ima još pitanja na koja treba odgovoriti i zato će ovaj post biti nastavak priče o keratinu i samom tretmanu. Od snimanja videa ja sam radila tretman još jednom (za dve godine 5 puta) i kosa mi u zadnjih 5 godina nije bila ni lepša ni duža. Za boju je zadužen tretman olaplexom ,za oporavak još uvek ne, ali samo iz razloga što sam sa olaplex tretmanima krenula pre par meseci. I o olaplexu postoji video koji možete pogledati OVDE. Odvojila sam vam par fotografija moje kose u zadnjih 5 godina. Moram da napomenem da je uvek blajhana i farbana u plavo.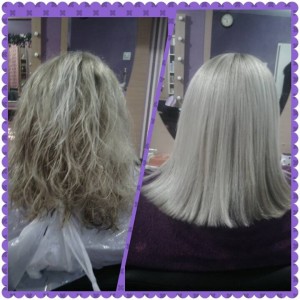 E sada najčesce postavljena pitanja i odgovori. Ja koristim samo Cadiveu i sa njim imam iskustvo. Druge nisam probala. A i ono što je dobro nikad ne menjam. I da…Retko ko posle prvog tretmana ne uradi drugi..treći. Znam iz iskustva 🙂
Posle tretmana kosa moze odmah da se opere,nema čekanja po nekoliko dana..Kosa izgleda zdravo i sjajno. Keratin se moze  koristiti posle bilo kog hemijskog procesa.. Ispravljanje kose keratinom je najbezbedniji i najefikasniji način dolaska do zdravog izgleda kose. Ovaj proizvod je nastao u Brazilu 2000 god. kao dokazano siguran za sve tipove kose. Nakon tretmana kosa je obogaćena keratinom, dlaka je zaštićena od pucanja i isušivanja i svako nanošenje hemijskih preparata nakon toga je bezbedno. Razlozi su jednostavni: Keratin Tretman za ispravljanje kose prodire u samu srž dlake i omogućava njenu elastičnost i čvrstoću 3-4 meseca nakon tretmana.
Da li je tretman bezbedan nakon mini -vala,trajnog ispravljanja ?
Da. Tretman je bezbedan uz prisustvo bilo koje kiseline u kosi.
Koliko je vremena potrebno nakon tretmana za ponovno farbanje?
Poželjno je sačekati 2 nedelje nakon tretmana.
Da li je tretman moguć na prirodnoj nefarbanoj kosi?
Da, ali traje odprilike kraće ( 2 meseca).
Prilikom ponavljanja tretmana, da li se nanosi samo na koren ili na celu kosu?
Ponovni tretman se nanosi na celu kosu
Koliko često mogu da koristim ovaj tretman?
Na svaka 3 meseca ili po potrebi, (mesečni tretman je bezbedan).Ali mislim da je totalno nepotreban
Da li će mi kosa biti isuviše ravna?
Ako je prirodno ravna ,da.Ako je prelomljena,kovrdzava ,suva,biće ravna ali zadržaće volumen.Spas za sve koji se stalno feniraju i i peglaju..
Ali ako imate ravnu kosu,moj savet od srca je da ne radite iz korena.Mastiće se kao nikad i moraće te da je perete česće nego inače.
Da li posle urađenog keratina mogu da uvijem lokne?
Da. Lokne, kao i bilo koje druge frizure, (uvijanje presom) mogu se raditi. Kada se kosa opere ona opet bude ravna.Kosa se sastoji od 88 odsto keratina. Nažalost, taj prirodni sastojak u njoj uništava se prekomernim mehaničkim tretiranjima kao što su feniranje, zagrevanje (korišćenje prese i pegle za ispravljanje kose i fenova) i hemijskim procesima (farbanje, posvetljivanje, tretmani i šamponi koji u svom sastavu sadrže sulfate ,štetni konzervansi i drugo). Uz to, svakoga dana spoljašnji faktori poput sunčevih zraka, vetra, zagađenog vazduha, dodatno oštećuju kosu. Zato se radi tretman keratinom.Da bi se keratin što duže zadržao u kosi, najbitnije je da se posle tretmana kosa ne pere sa šamponima koji sadrže sulfate ,ali iskreno ja to nisam poštovala i ništa mi nije falilo. Preporučuje se da se tretman radi posle godišnjih odmora kada kosa nije izložena direktno suncu i morskoj vodi.Ja lično radim u aprilu-maju ,mirna sam tokom leta i naravno posle mora i leta .To mi je idealna kombinacija. U svetu tretmani Brazilskim keratinom rade se već  godinama u najekskluzivnijim salonima. Najbolje rezultate pokazali su preparati koji su proizvedeni u Brazilu.
Cena.Varira od salona do salona i od proizvodjača.Najčesca  cena Cadiveu keratina je 900-1000 din 10ml.Za moju kosu potrebno je 40-50ml.
Kada je u pitanju sam tretman i postupak,pripremite živce,vreme i maramice a i novac.Plakaćete sigurno.U keratinu ima (mala i bezbedna količina -pitala doktore i raspitala se prvo zbog sebe)formaldehida i sirćetne kiseline.Od tih isparenja plačete kao malo dete a zna malo da štipne i u nosu i grlu.Na kraju svega -VREDI!  Sam tretman izgleda ovako:Prvo se opere kosa posebnim šamponom,pa se osuši,pa se tanki pramenovi kose peglaju i peglaju i peglaju.Onda, kada se sve završi i kada je kosa najlepša na svetu celom,opet pranje i na mokru kosu se nanosi maska koja MORA da stoji 15 min.Opet se ispere kosa ,osuši se i kraj.Ako vam u nekom salonu kažu da to traje sat ,sat ipo znajte da TO nije TO.Za srednju dužinu i gustinu potrebno je najmanje dva sata.Bez pauze.
Što je kosa oštećenija,efekat je više vidljiv.
Nadam se da sve lepo objasnila.Meni je pomogao.Kakva su vaša iskustva?
Ps.I nadam se da vam se svideo moj prvi  post. 🙂